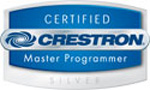 One Step Logic is a Crestron Authorized Independent Programmer (CAIP) specializing in Crestron programming, design, and module development for residential, corporate, and government systems.
One Step Logic provides unparalleled Crestron programming and design for residential A/V systems. We are ready for any challenge ranging from a custom home theater to whole house automation systems including distributed A/V, lighting, HVAC, Pool/Spa, Cameras, Gate/Door access, Multiple Media/Theater systems, Security, Weather, etc...
Our Certified Crestron programmer is experienced at programming and design of control systems to meet the strict specifications and requirements for corporate, governmental, and educational orgranizations. We have implemented corporate boardrooms, videoconferencing, distance learning, and command & control centers.
One Step Logic prides itself on designing clean, intuitive, and easy to use touch panel layouts. We offer standard themes as well as custom graphic design for those discriminating clients. Check out our latest touch panel samples!
Our developer has an extensive computer programming background which allows us to quickly and successfully develop a custom Crestron module for any device you may want to integrate into your system. One Step Logic welcomes manufacturers looking to create a Crestron module to support their new device.
One Step Logic is a proud member of Crestron's CAIP program. Having earned CAIP status through intensive training and real-world experience, One Step Logic offers a much higher level of expertise and familiarity with Crestron than other independents.